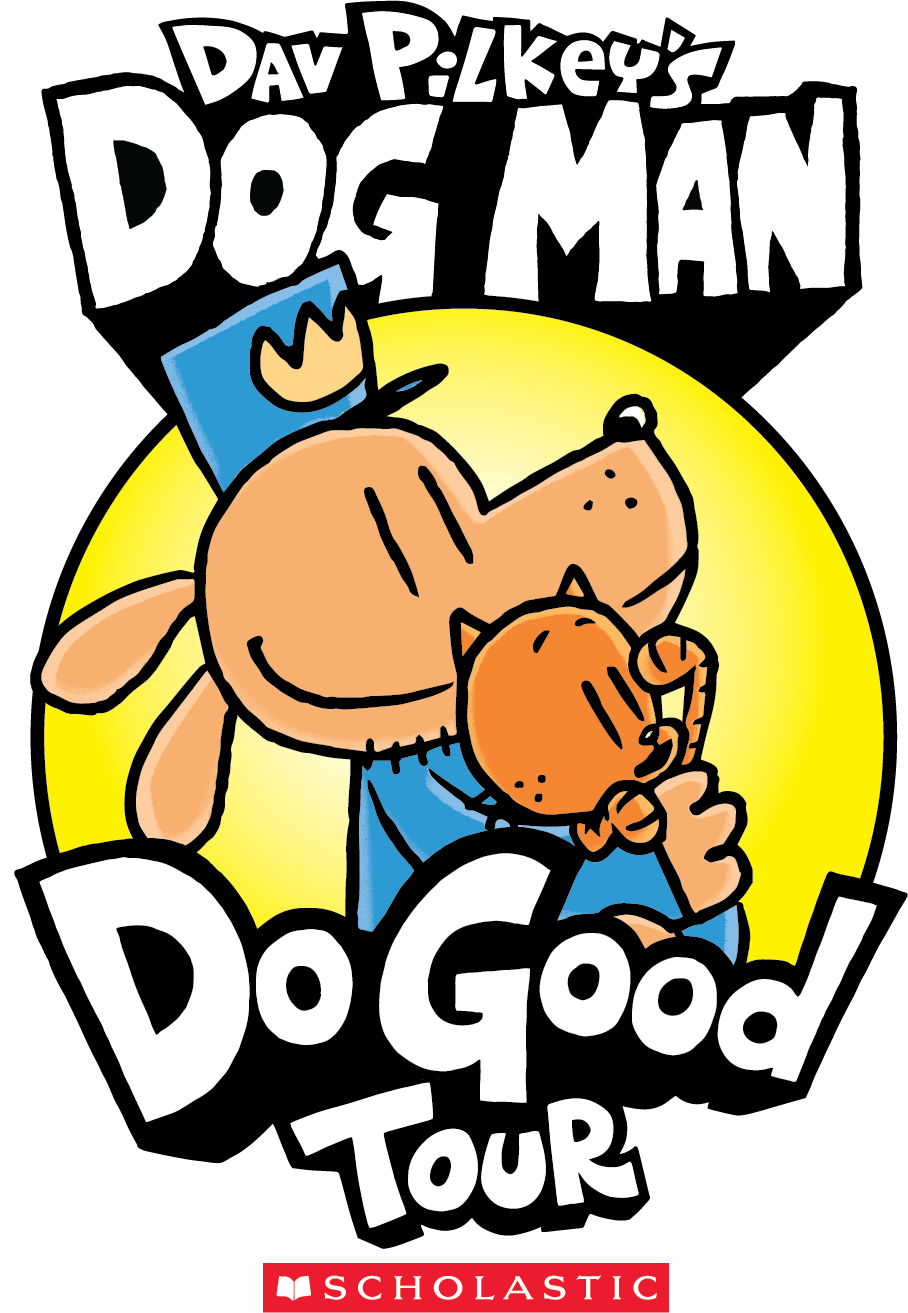 About the Dog Man
"Do Good" Campaign
Inspired by the characters and themes in the worldwide bestselling Dog Man series by Dav Pilkey, "Do Good" is a campaign to encourage readers of all ages to give back and make a positive impact in their communities.
Highlights from the "Do Good" initiative include a global book tour featuring events with a charitable component in multiple cities across the U.S. and around the world.
Event
Location
Date
Time
Short Hills, NJ:

Indigo - The Mall at Short Hills
1200 Morris Turnpike
Short Hills, NJ 07078

Hosted by Indigo

Get Tickets
Facebook event page

This event has sold out!

Sunday, 9/15/19
11:00 AM – 3:00PM
Half Price Books – Ft. Worth, TX

Wiley G. Thomas Coliseum
6108 Broadway Ave
Haltom City, TX 76117
United States

This event has sold out!

Saturday, 9/21/19
2:00 PM
Columbus, OH

CXC – Cartoon Crossroads Columbus

Wexner Center for the Arts, 1871 North High Street

Columbus, Ohio 43210

This event has sold out!

Friday, 9/27/19
7:30 PM
Red Balloon – St. Paul, MN

St. Catherine's University – O'Shaughnessy Auditorium

2004 Randolph Ave

St. Paul, MN 55105



Please purchase tickets for this event directly through the O'shaughnessey in order to avoid scams and ticket scalping using the link below.



Saturday, 9/28/19
6:30 PM (Doors open at 5:30 PM)
Southern Pines, NC

Pinecrest High School - Lee Auditorium

250 Voit Gilmore Lane

Southern Pines NC 28387

Co-hosted by The Country Book Shop

This event has sold out!

Friday, 10/4/19
6:30 PM (Doors open at 5:30 PM)
Copperfield's – Petaluma, CA:

Petaluma Veteran's Hall

1094 Petaluma Blvd S

Petaluma, CA 94952

Co-hosted by Copperfield's Bookshop

Wednesday, 10/23/19
7:00 PM (Doors open at 6:00 PM)
Santa Cruz, CA

Civic Auditorium

307 Church St.

Santa Cruz, CA 95060

Hosted by Bookshop Santa Cruz

Thursday, 10/24/19
6:00 PM (Doors open at 4:30 PM)
Santa Monica, CA

Santa Monica High School - Barnum Hall
600 Olympic Blvd
Santa Monica, CA 90405

Co-hosted by Children's Book World

Saturday, 10/26/19
1:00 PM (Doors open at 12:00 PM)
El Segundo, CA

El Segundo Performing Arts Center
640 Main Street
El Segundo, CA 90045

Co-hosted by pages: a bookstore

With special guest "supa buddies"
Dan Santat and Gale Galligan

Sunday, 10/27/19
2:00 PM (Doors open at 1:00 PM)
Shanghai, China

China Shanghai International Children's Book Fair

Saturday, 11/16/19
TBD
Hong Kong

Details tk

Sunday, 11/17/19
TBD
Mumbai, India

Royal Opera House

Mama Paramanand Marg, Mumbai,

Maharashtra 400004

Wednesday, 11/20/19
TBD
Missed Dav at an Event?
Watch Some of His Events Here!