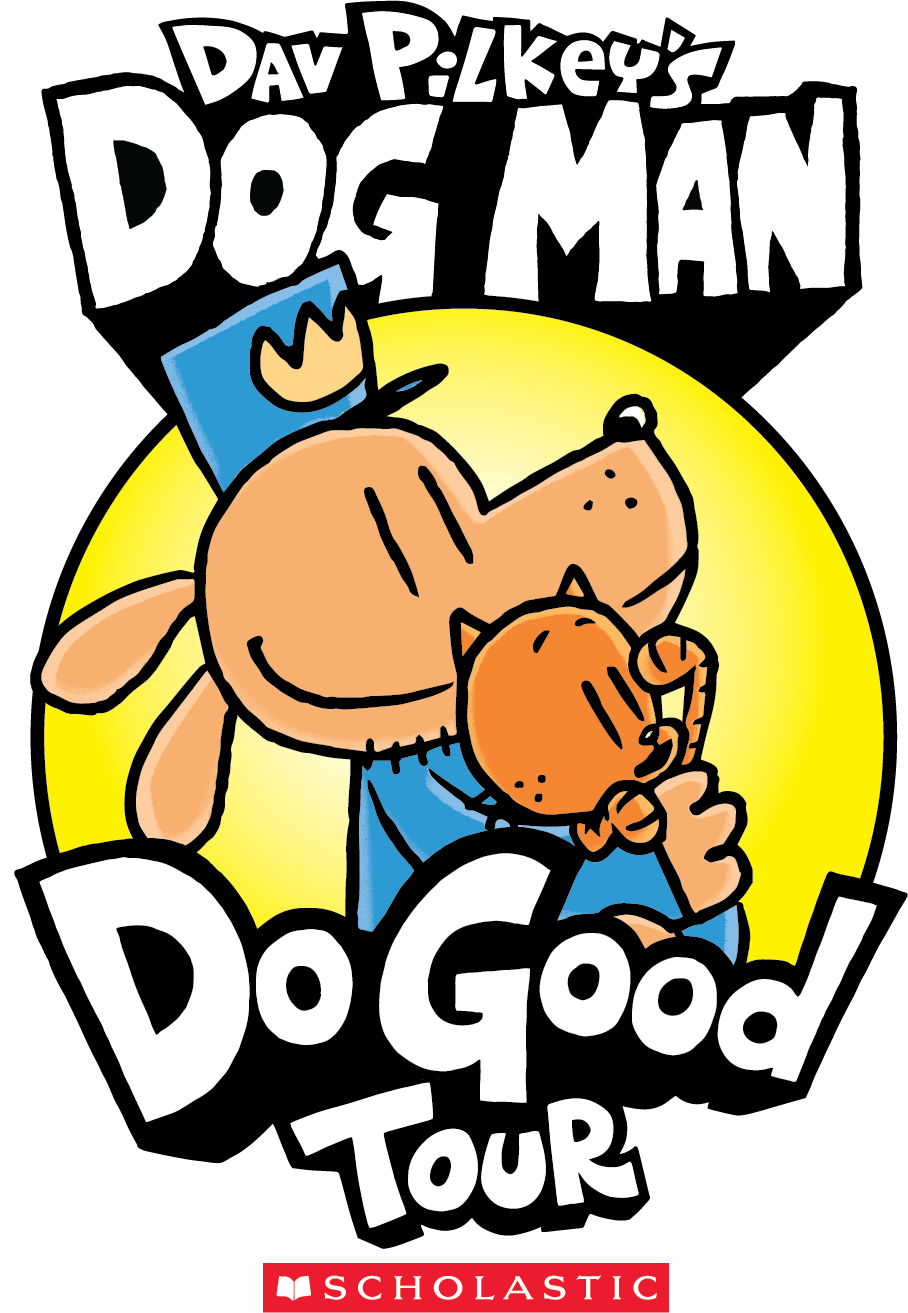 About the Dog Man
"Do Good" Campaign
Inspired by the characters and themes in the worldwide bestselling Dog Man series by Dav Pilkey, "Do Good" is a campaign to encourage readers of all ages to give back and make a positive impact in their communities.
Highlights from the "Do Good" initiative include a global book tour featuring events with a charitable component in multiple cities across the U.S. and around the world.
Event
Location
Date
Time
Mississippi Book Festival

Mississippi State Capitol

Jackson, Mississippi

Saturday, 8/17/19
9:30 a.m. (doors open at 9:00 a.m.)
St. Louis, MO

Chaifetz Arena, 1 S Compton Ave,

St. Louis, MO 63103

Hosted by Novel Neighbor

This event has sold out!

Sunday, 8/18/19
2:00 PM (Doors open at 1:00 PM)
Short Hills, NJ:

Indigo - The Mall at Short Hills

1200 Morris Turnpike

Short Hills, NJ 07078

Hosted by Indigo

Get Tickets
Facebook event page

This event has sold out!

Sunday, 9/15/19
11:00 AM – 3:00PM
Half Price Books – Ft. Worth, TX

Wiley G. Thomas Coliseum
6108 Broadway Ave
Haltom City, TX 76117
United States

Saturday, 9/21/19
2:00 PM
Columbus, OH

CXC – Cartoon Crossroads Columbus

Wexner Center for the Arts, 1871 North High Street

Columbus, Ohio 43210

This event has sold out!

Friday, 9/27/19
7:30 PM
Red Balloon – St. Paul, MN

St. Catherine's University – O'Shaughnessy Auditorium

2004 Randolph Ave

St. Paul, MN 55105

Saturday, 9/28/19
6:30 PM (Doors open at 5:30 PM)
Southern Pines, NC

Pinecrest High School - Lee Auditorium

250 Voit Gilmore Lane

Southern Pines NC 28387

Co-hosted by The Country Book Shop

Friday, 10/4/19
6:30 PM (Doors open at 5:30 PM)
Copperfield's – Petaluma, CA:

Petaluma Veteran's Hall

1094 Petaluma Blvd S

Petaluma, CA 94952

Co-hosted by Copperfield's Bookshop

Wednesday, 10/23/19
7:00 PM (Doors open at 6:00 PM)
Santa Cruz, CA

Civic Auditorium

307 Church St.

Santa Cruz, CA 95060

Hosted by Bookshop Santa Cruz

Thursday, 10/24/19
6:00 PM (Doors open at 4:30 PM)
Shanghai, China

China Shanghai International Children's Book Fair

Saturday, 11/16/19
TBD
Hong Kong

Details tk

Sunday, 11/17/19
TBD
Mumbai, India

Royal Opera House

Mama Paramanand Marg, Mumbai,

Maharashtra 400004

Wednesday, 11/20/19
TBD
Missed Dav at an Event?
Watch Some of His Events Here!